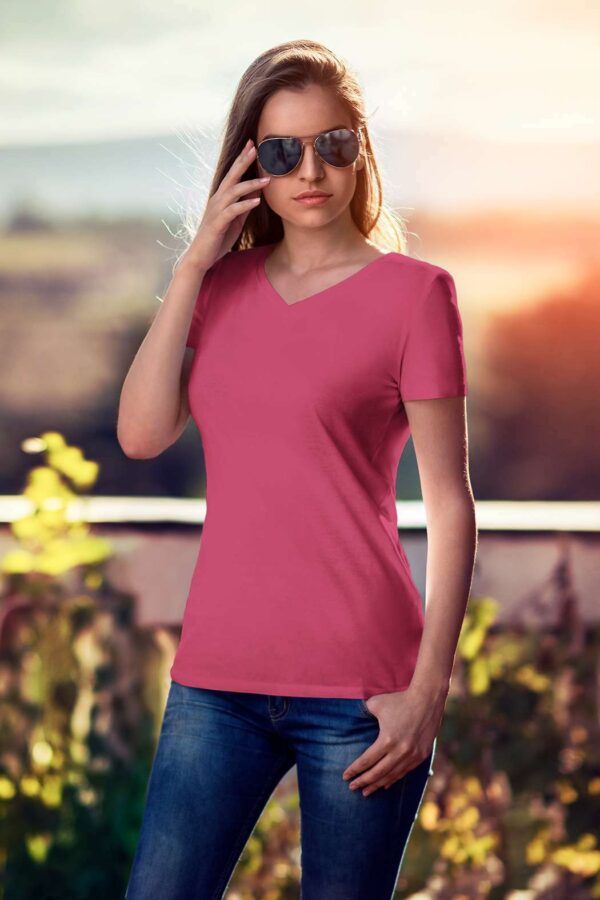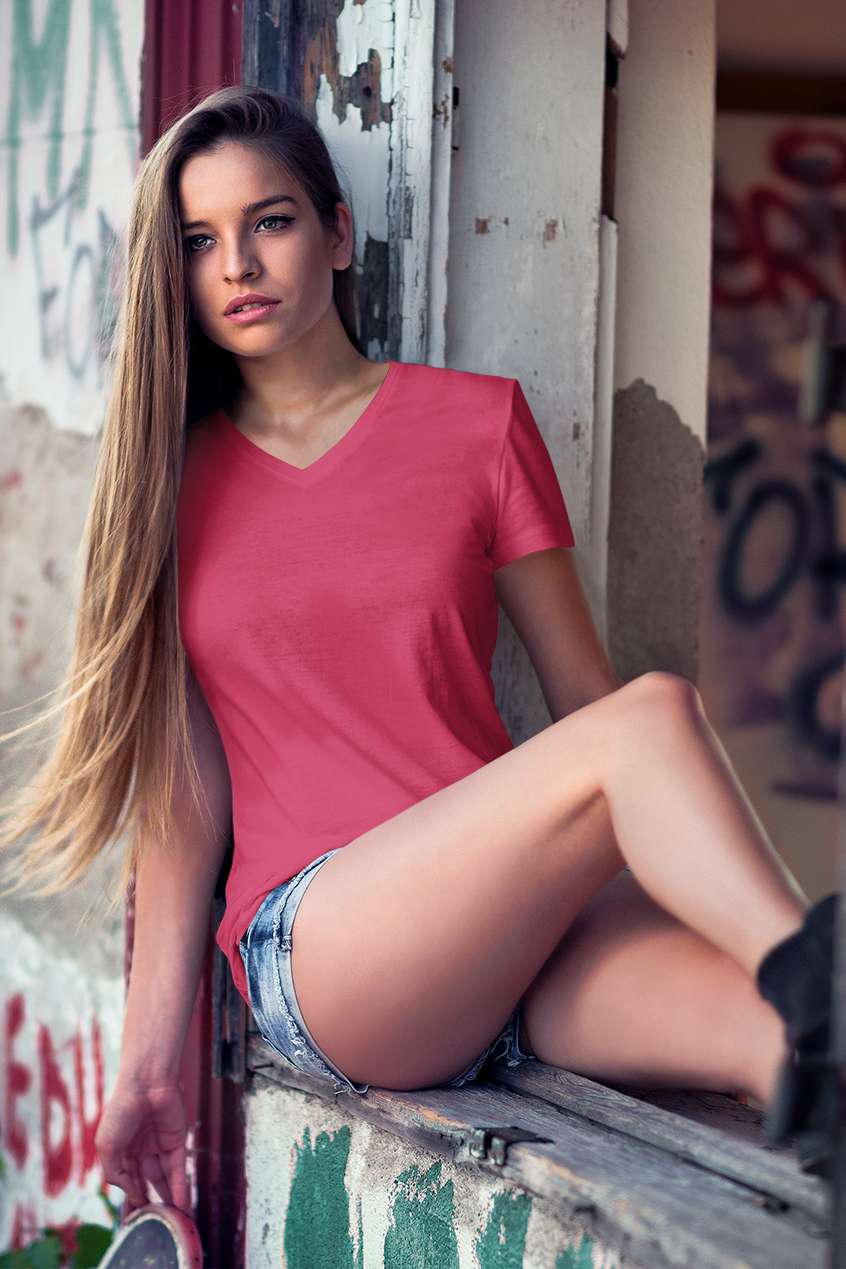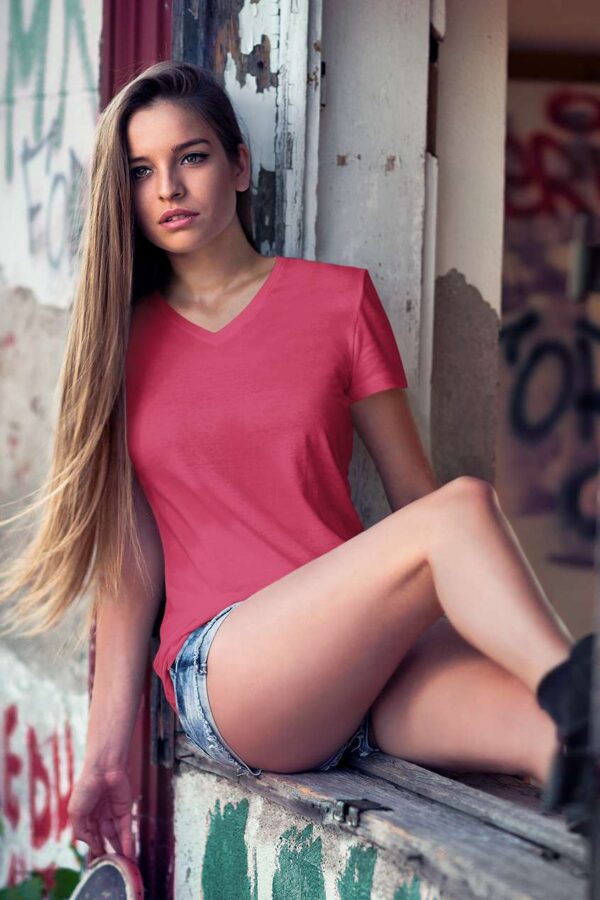 100% Organic Cotton Essential V-Neck T-Shirt for Women- Premium & Eco-Friendly
$32.00
Brand Name: Blily
Product Name: Organic Cotton V Neck T Shirt Womens
Product Code: BL -WMT-001
Color- Pecado
Material Composition: 100% Organic Cotton
Key Product Features:  Half Sleeve, V-Neck
Product Care Instructions: Normal Machine Wash
Country of Manufacturer: India
Low MOQ In Manufacturer and Wholesale of Customize Organic Cotton T-shirts.
Organic Cotton Essential V-neck T-Shirts For Women
Organic cotton Essential V-neck t-shirt are gaining popularity for their sustainable and ethical production methods as well as their comfort and durability. Organic Cotton is grown without the use of synthetic pesticides and fertilizers, which not only reduces environmental damage, but also creates a healthier workplace for cotton farmers. The organic production process also prioritizes sustainable practices, such as reducing water usage and minimizing waste. Organic t-shirts are also known for their softness and breathability, making them a comfortable choice for everyday wear. Plus, organic cotton is hypoallergenic and skin-friendly, making it a great choice for those with sensitive skin.
Organic Cotton V Neck T Shirt Womens
Introducing our eco-friendly and stylish Organic Cotton V-Neck T-Shirt for Women, designed with both comfort and sustainability in mind. Crafted from 100% certified organic cotton, this t-shirt not only feels incredibly soft against your skin but also helps reduce the environmental footprint.
Key Features:
Pure Organic Cotton: Our t-shirt is made from 100% organic cotton, grown without the use of synthetic pesticides or fertilizers, ensuring a natural and chemical-free fabric that's gentle on your skin.
V-Neck Design: The classic V-neck adds a touch of elegance to this casual piece, making it perfect for everyday wear or dressing up for various occasions.
Comfort Fit: The relaxed and comfortable fit of this t-shirt allows for easy movement and all-day comfort, making it a versatile addition to your wardrobe.
Sustainability: By choosing organic cotton, you're supporting environmentally-friendly farming practices that protect the Earth and promote healthier ecosystems.
Versatile Style: This t-shirt is a wardrobe essential that can be paired with jeans, shorts, skirts, or layered under jackets for a variety of stylish looks.
Available in Various Colors: We offer a range of colors to suit your individual style, making it easy to find the perfect shade that complements your wardrobe.
Easy Care: Our organic cotton t-shirt is easy to care for. Machine wash it in cold water and tumble dry on low for long-lasting quality.
organic cotton t shirts wholesale bulk
Elevate your clothing business with our premium organic cotton t-shirts available for wholesale in bulk quantities. Our organic cotton t-shirts are a sustainable and eco-friendly choice, ideal for environmentally-conscious consumers. Crafted from 100% organic cotton, they are free from harmful chemicals, ensuring a soft, comfortable, and hypoallergenic garment. We offer a wide range of colors, sizes, and styles to suit diverse preferences and fashion trends.
By choosing our wholesale organic cotton t-shirts, you can not only meet the demand for eco-conscious clothing but also align your brand with sustainable practices. Join the movement for a greener future with our bulk organic cotton t-shirts.
Organic cotton clothing also tends to be more durable and higher quality than traditional cotton clothing, making it a sustainable investment. With their environmental and social benefits, organic cotton t-shirts are a popular choice for those who value sustainability and ethical fashion practices. Blily, Also Provides Custom Organic T-Shirts on MOQ basis for more Enquiry Mail us at: [email protected]. we are bulk manufacturer and wholesaler of the Customize T-shirts and clothing on Low MOQ.