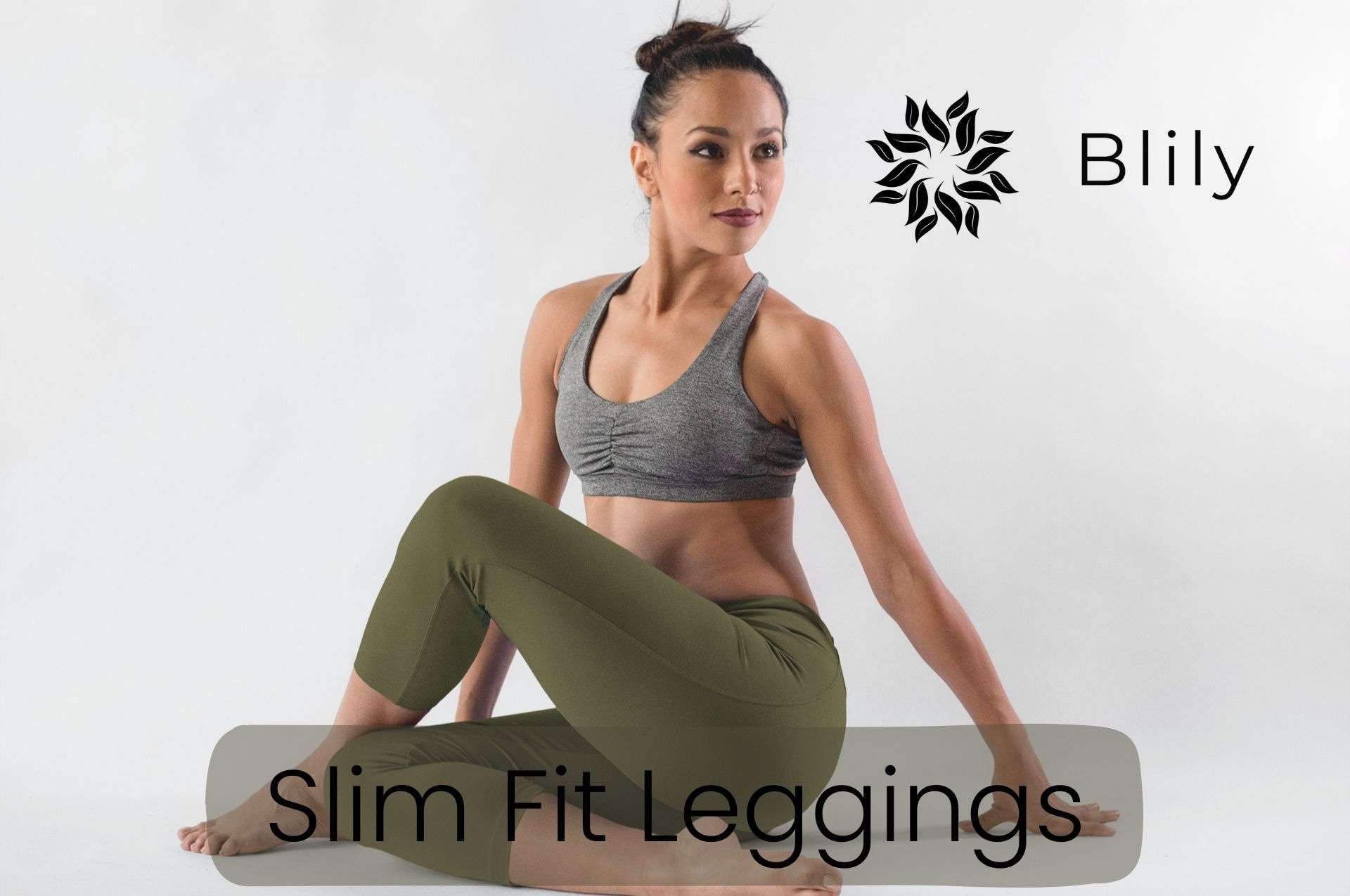 Slim Fit Leggings: Elevate & Embrace your Style & Comfort.
Slim fit Leggings are tights that are usually made of stretchy materials such as spandex or polyester blends. It's designed to hug the legs and waist for a sleek, streamlined look. Slim-fit tights are designed to accentuate the curves of the body while providing comfort, flexibility and style.
Slim fit leggings are tight-fitting trousers that hug the legs and waist for a nice, comfortable fit. The purpose of slim fit leggings is to emphasize the curves of the body and create a flattering silhouette. They are versatile garments for many activities such as work, dress, and even a fashion statement. Slim fit tights are just as stylish with their flexible materials and narrow cuts.

Why are slim fit leggings popular and versatile?
Slim fit leggings are popular and versatile for several reasons.
First, thanks to the stretchy material, they provide a fit and flexibility that allows for easy movement during activities ranging from work to daily wear.
Second, slim-fit leggings are versatile when it comes to style. They can be worn with a variety of tops, tunics, dresses or oversized sweaters to suit different occasions and personal preferences.
In addition, slim fit tights, which beautify the body and give a beautiful and beautiful appearance, have also become fashionable. They come in many colors, patterns and designs, allowing people to express their own fashion sense.
Additionally, slim-fit leggings are loved for their ability to enhance the curves of the body, giving the wearer a flattering silhouette.
Finally, the comfort and style of slim-fit tights make them the choice of many, whether for sports like outings or as a stylish alternative to trousers.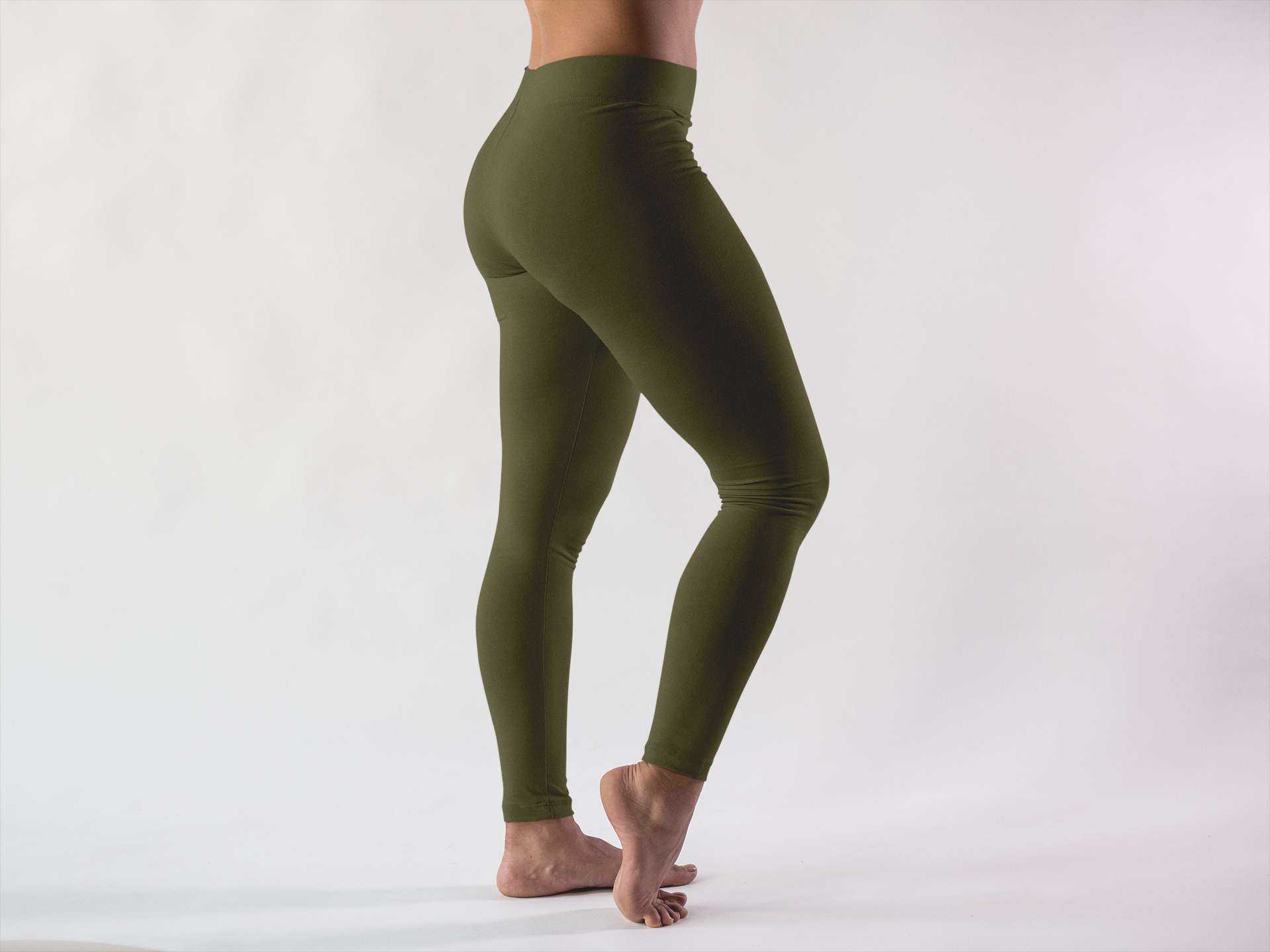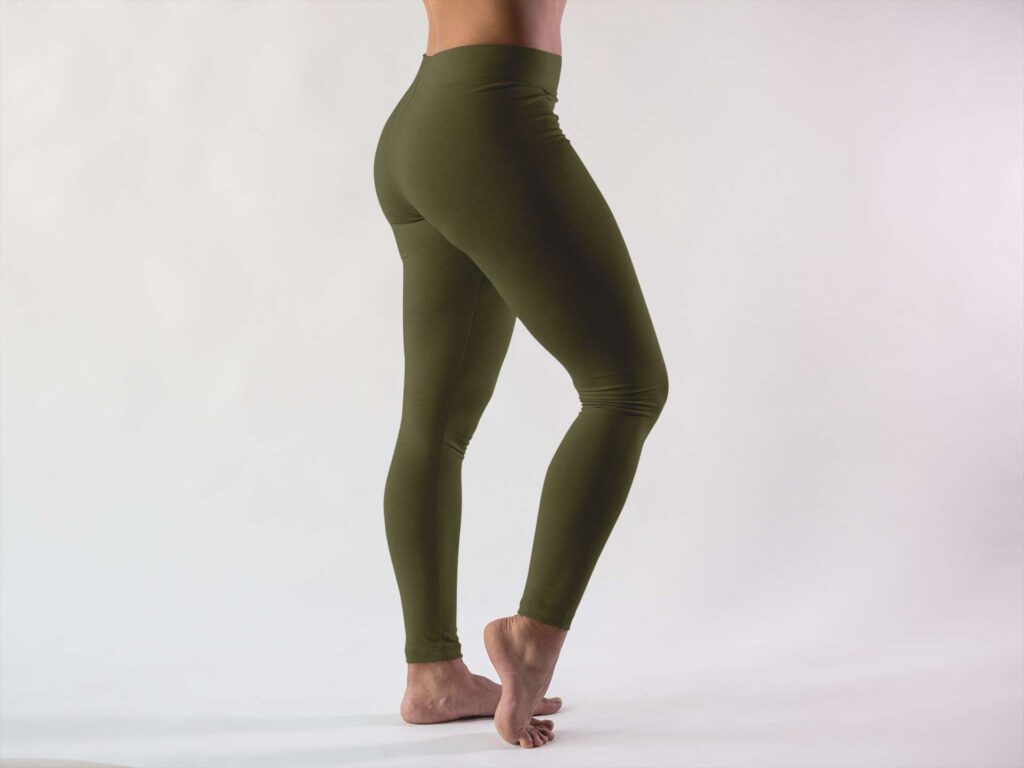 Table of Contents
Choosing the Perfect Fit Leggings
Understanding different body types and how to choose leggings accordingly
Many factors need to be considered to find the most suitable one. For a pear-shaped body, dark-solid and patterned tights can help create balance. Hourglass figures may prefer high-waisted tights that emphasize the hips. Those with an athletic body can opt for tights with sharp seams and panels to accentuate their lines. Knowing your body shape will help you choose the right tights for your body.
Determining the right size and length for a flattering look
Choosing the right size is important for fit and compliment. Please refer to the target size chart and measure your waist, hips and inseam to find your perfect size. Tights should be tight, but not too tight or restrictive. Also, consider the length of your leggings. Full-length tights are suitable for most body types, while short or short pants are better for petite or hot weather.
Exploring various fabric options for slim fit leggings
Slim fit leggings are available in a variety of fabrics, each with different features and benefits. The cotton blend is breathable and comfortable for daily wear, while the spandex blend has good stretch and ease of use. Polyester blended fabrics generally absorb moisture for high performance. When choosing fabric for slim fit tights, consider use and desired comfort level.
Styling Tips for Every Occasion
Casual Chic:
Pairing Skinny Fit Leggings with Oversized Sweaters and Sneakers
Pair slim fit leggings with a jacket or sweatshirt for a casual-chic look. This combination creates a simple yet stylish outfit. Complete the relaxed vibe with a pair of sneakers. Wear a crossbody bag or beanie for a touch of air.
Office Attire:
Elevating the Look with Blazers and Heels
To make slim fit leggings appropriate for the office, dress them up with a tailored blazer. Choose a blazer in a contrasting color or a classic neutral shade to add sophistication to the outfit. Pair it with a blouse or a button-up shirt for a polished look. Finish off with heels or ankle boots to elevate the overall appearance.
Active Wear:
Optimal Performance and Flexibility for Workouts
When it comes to active wear, opt for tight-fitting tights made from moisture-wicking and stretchy materials. Look for tights that feature features like a wide waist for extra support and a snug fit. Wear it with a nice sports shirt or a fitted tank top. Complete the set with supportive sneakers to ensure you get the best performance and flexibility during your workout.
Night Out:
Dressing Up Slim Fit Leggings with Heels and Statement Tops
In the evening, you can combine tight-fitting leggings with heels and tops. Option for sequined or embroidered tops to add glamor to the team. Wear heels or heels for a sophisticated and stylish combination. Add some accessories like earrings or a clutch to enhance the look.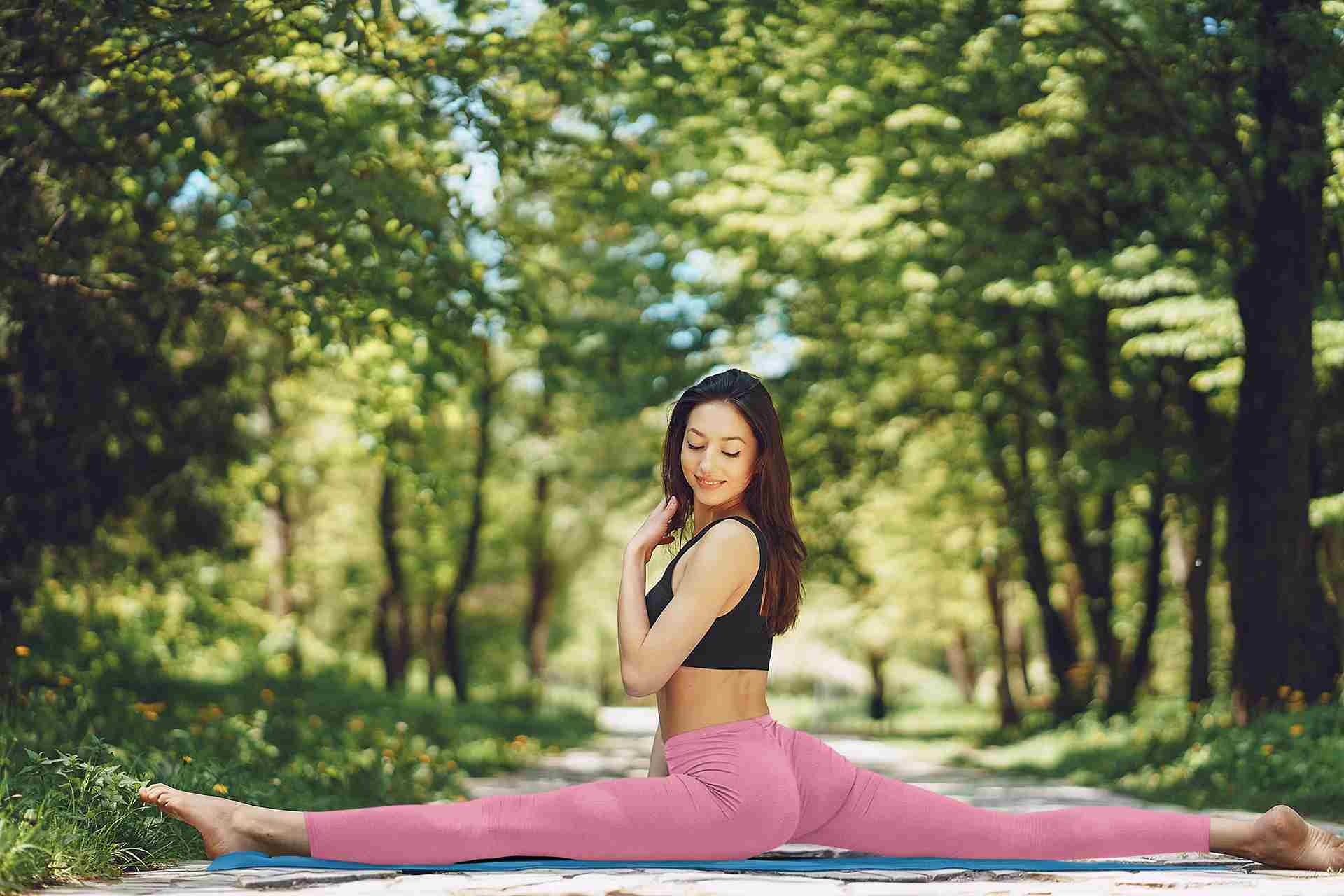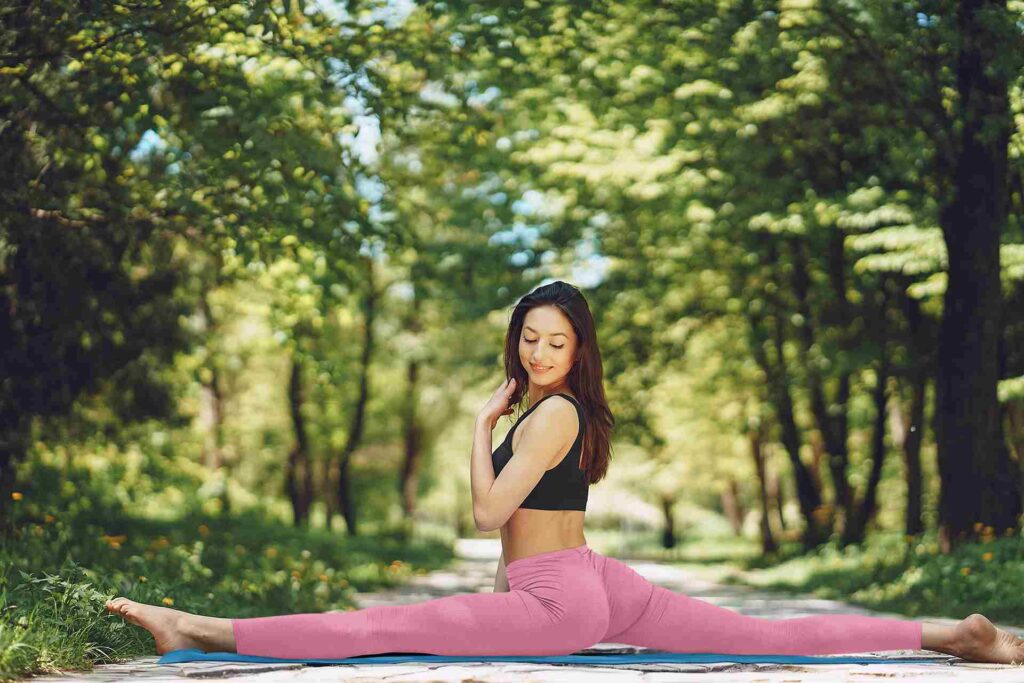 Colors and Patterns
Black, gray, navy, and white
Classic neutral colors like black, gray, navy, and white are regular choices for slim fit tights. These colors are so versatile that they can be easily combined with various tops and accessories. They provide a beautiful and elegant look that is perfect for both casual and formal occasions.
Embracing colors to make a statement
For those who want to make a bold statement, choosing tight-fitting tights in bright colors is a good choice. Colors such as red, electric blue, emerald green or pink can add vitality to your outfit. Pair with a neutral top or an additional shade to balance the look and let the tights stand out.
Incorporating floral, animal print, and geometric designs
Consider patterned and printed slim fit leggings tights to add visual interest and personality to your outfit. Floral designs can be feminine and romantic, while animal prints like leopards or snakes can add boldness. Geometric print offers a modern and eye-catching look. When wearing patterned tights, keep the rest of your outfit simple and let the tights stand out.
Complementing Your Body Shape
Tips for petite figures. For petite figures, there are some tricks to creating the illusion of longer legs when wearing tight-fitting tights. Choose high-waisted tights to visually lengthen your lower body. Wear heels or wedges to add height and elongate legs. Also, choose tights with vertical stripes or stitches for a lengthening effect.
Enhancing the shape for a more hourglass silhouette. If you want to improve your lines and create a watch silhouette, focus on choosing slim fit leggings with details that add volume to your waist and hips. Look for tights with pleats, pleats or side panels to create the illusion of curvy. Also, wearing a fitted bra or cincher can help support your waist and create a tighter body.
Styling tips for both top-heavy and bottom-heavy body types. Balance the balance by choosing tight-fitting tights in dark colors for a heavy body top and pair them with tops that add volume to your lower body. A tunic, long shirt or a ruffled detailed top can help create a fit. Alternatively, if you are thin, opt for black tights and combine them with a top to highlight your body. This can be done by wearing shirts with interesting collars, flashy sleeves or bold patterns.
Fabric Technology and Features
Moisture-wicking properties for active lifestyles
Many tight-fitting tights absorb moisture, meaning they absorb sweat effectively from the skin and evaporate quickly. This is especially beneficial for people with active lifestyles or those who exercise intensely. Moisture-wicking fabric helps keep you dry and comfortable by preventing sweat build-up and reducing the risk of chafing or discomfort.
Breathable fabrics for enhanced comfort
Breathable fabric is another important factor to consider when choosing slim fit tights. Fabrics such as cotton blends or breathable functional materials promote air circulation, prevent overheating and regulate body temperature. Breathable tights are great for prolonged exercise or sports that require hot weather, as they help keep you cool and prevent excessive sweating.
Compression technology: Benefits and considerations
Leggings often feature compression technology. Compression tights are designed to apply gentle pressure to specific muscles, promote better blood flow and reduce muscle fatigue during exercise. Compression also provides support for muscles and joints, which will help prevent injury. However, it's important to remember that compression tights will feel better than regular tights and some people may find them restrictive or uncomfortable. It is recommended that you try different compression levels and find what works best for your comfort and needs.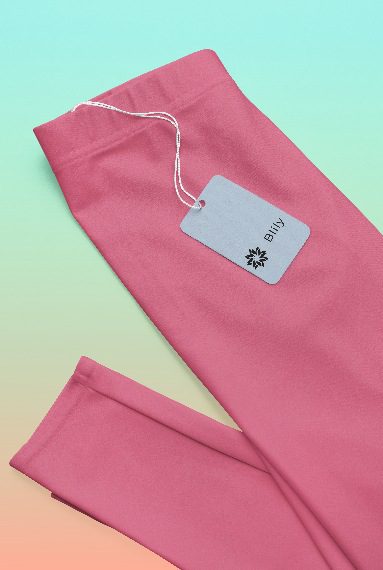 Maintenance and Care
To maintain the quality and longevity of your slim fit leggings, it's important to follow the specific washing instructions for the fabric type. Generally, it is recommended to wash leggings in cold water on a gentle cycle. Avoid using harsh detergents or bleach, as they can damage the fabric. Some delicate fabrics may require hand washing or being placed in a laundry bag to protect them from stretching or snagging. Always refer to the care label provided by the manufacturer for the best washing instructions.
Proper storage is the key to maintaining the shape of your slim fit tights. Do not fold and hang neatly, as this will stretch and deform the fabric over time. If you want to hang it, use clip-on suspenders to minimize stretching. It is also recommended to store it in a cool, dry place away from direct sunlight, as prolonged exposure to sunlight will cause discoloration.
There are some things to keep in mind to avoid making your tights slim fit. Avoid rough or abrasive materials that can cause pilling or snagging. Be careful when wearing sharp-edged jewelry or jewelry that can snag and pull on the fabric. Also avoid fabric softeners as they can reduce the elasticity of the tights. Finally, beware of activities that can cause excessive impact on the fabric, such as rough sports or activities involving Velcro or rough surfaces.
Sustainable and Ethical Choices
When choosing tight-fitting tights, make sure to choose environmentally friendly fabrics. Sustainable options include organic cotton grown without the use of pesticides or synthetic fertilizers. Another option is recycled polyester made from recycled plastic bottles to reduce waste. Made from reclaimed wood, Tencel is also an eco-friendly option. These fabrics reduce environmental impact and support better practices in the fashion industry.
It is important to support brands that are important in terms of product quality and ethics. Look for brands that are transparent about their supply chains, practice fair labor practices, and use eco-friendly production methods. Certifications such as Fairtrade, Global Organic Textile Standard (GOTS) or Blue Mark demonstrate the brand's commitment to ethics and culture. Find and choose products that match your values ​​and help promote green and fair trade.
Do not throw away your old or unworn tights, consider recycling or better reuse. Upcycling involves converting old leggings into new products or recycling them for other purposes. For example, you can turn them into hairpins, patches for other clothing, or reusable items. If the dust cover is beyond repair, check for recycling programs or initiatives in your area that accept waste material for recycling or reuse.
Buy Quality Leggings of Organic Cotton and Linen at blily.in
If you're looking for high-quality slim fit leggings made of organic cotton and linen, www.blily.in is the place to go. They offer a wide selection of leggings that provide both comfort and sustainability. By choosing eco-friendly materials, you can make a conscious fashion choice that aligns with your values.
Visit www.blily.in is website to explore their collection and discover the benefits of organic cotton and linen leggings. These fabrics not only feel great against your skin but also contribute to a greener and more sustainable fashion industry.
Make a fashion statement while supporting eco-friendly practices by purchasing leggings from Blily. Enjoy the comfort, style, and peace of mind that comes with making a conscious choice for both yourself and the environment.