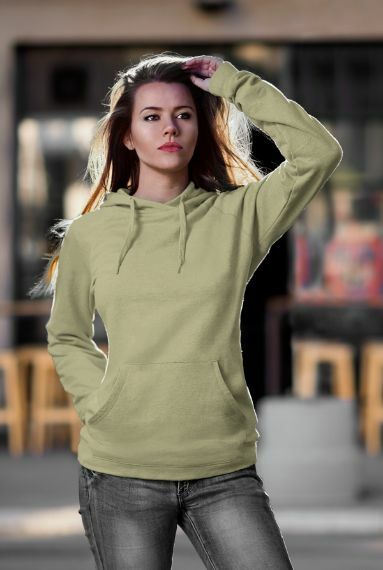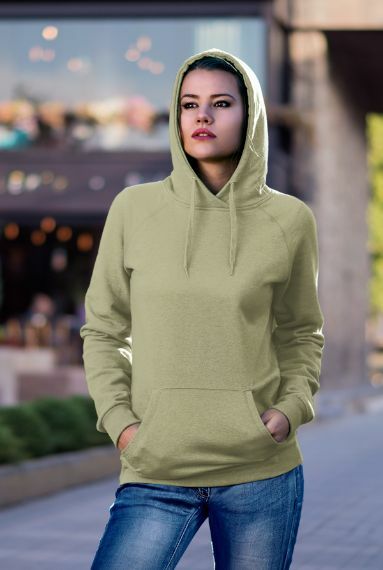 100% Organic Cotton Hoodie for Women- Comfortable & Sustainable
$33.59
Brand Name: Blily
Product Name: Organic cotton Hoodies for women
Product Code: BL -WHD-001
Color: Leak Green
GSM: 250 gsm
Material Composition: 100% Organic Cotton
Key Product Features:  Hood with Draw cord, Kangaroo Pocket,
Product Care Instructions: Normal Machine Wash
Country of Manufacturing: India
Contact us at [email protected] for wholesale on Low MOQ. we are manufacturer of customize 100 % organic cotton Hoodies, Sweat Shirt, and T-shirts.
Hoodies for Women
Hoodies have become a staple in many people's wardrobes, and for good reason. They provide comfort, warmth, and a stylish look that can be dressed up or down. At Blily, we understand the importance of sustainability and comfort in clothing, which is why we have created a collection of hoodie for women that are eco-friendly and also customizable.
Organic Women's Hoodie
Our hoodies are made from sustainable materials organic cotton, which is biodegradable and has a lower environmental impact than traditional materials. We believe that fashion can be both stylish and sustainable, and our hoodies are a perfect example of this. One of the unique features of our hoodies is that they can be customized to suit individual preferences. Customers can choose from a range of colors, sizes, and styles to create a hoodie that is perfect for them.
We believe that customization is an important part of sustainable fashion as it reduces waste and ensures that customers get exactly what they want. Our hoodies are designed with women in mind, and we have a range of styles to suit different preferences.From classic zip-up hoodies to oversized pullovers, there is something for everyone in our collection. We also offer a range of sizes, including plus sizes, so that every woman can feel comfortable and confident in our hoodies.
Sustainable Organic Cotton
Stay cozy and stylish with our Women's Organic Cotton Hoodies, made from 100% GOTS certified organic cotton. Designed with both comfort and sustainability in mind, these hooded sweatshirts are perfect for everyday wear, lounging at home, or outdoor activities. Crafted from premium quality organic cotton, these hoodies are lightweight, breathable, and soft against the skin. The hood provides additional warmth and protection from the elements, making it perfect for layering. Our hoodies feature a classic design with a kangaroo pocket, ribbed cuffs, and hem, giving you a casual and comfortable look.
Available in a range of sizes and colors, our Organic Women's Hoodies are perfect for any occasion. Whether you're heading to the gym or going for a walk, these hoodies provide the perfect blend of style and comfort. And with our commitment to sustainable and ethical production, you can feel good about your purchase.
Key Features:
GOTS Certified Organic Cotton: Made from 100% premium organic cotton for a comfortable and sustainable hoodie.
Soft and Breathable: Lightweight and breathable fabric ensures maximum comfort and breathability.
Hooded Design: The hood provides extra warmth and protection from the elements, making it perfect for outdoor activities.
Kangaroo Pocket: Convenient front pocket for keeping your hands warm or storing small items.
Ribbed Cuffs and Hem: Classic ribbed cuffs and hem give a snug and comfortable fit.
Available in a Range of Sizes and Colors: Choose from a range of sizes and colors to find the perfect hoodie for you.
Ethical and Sustainable Production: We are committed to using sustainable and ethical production practices to reduce our impact on the environment.
our hoodies are also designed for comfort. We use high-quality materials that are soft, breathable, and durable, so our customers can enjoy wearing their hoodies for years to come. Whether you're lounging at home or running errands, our hoodies are the perfect choice for any occasion.
In conclusion, our hoodies for women at Blily are a perfect combination of sustainability, comfort, and style. With customizable options and a range of sizes and styles, every woman can find a hoodie that suits her preferences. We believe that sustainable fashion is the way forward, and we are proud to offer a collection of hoodies that are both eco-friendly and fashionable.