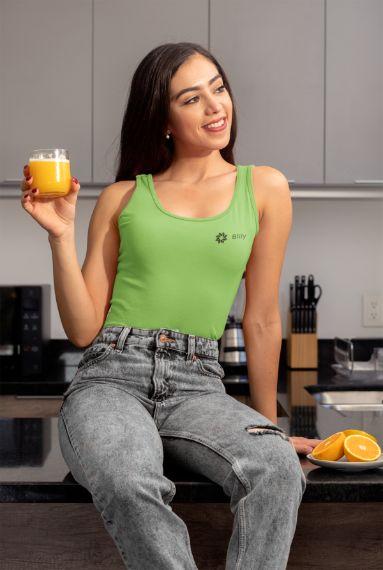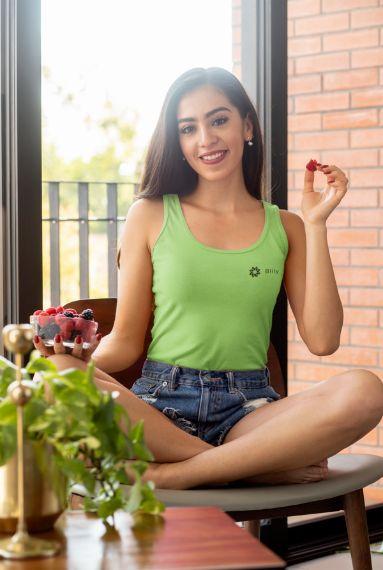 Beautiful Women Tank Tops 100% Organic Cotton
$30.00
Name: Women Tank Tops
Product Code: BL -WTT-002
Color- Jasmine Green
Material Composition: 94% Organic Cotton, 6% Lycra
Key Product Features:  Printed Logo ( Custom)
Product Care Instructions: Normal Wash
Contact us at [email protected] for wholesale on Low MOQ. we are manufacturer of customise 100 % organic cotton Tank Tops.
FREE SHIPPING
Women Tank Tops
A sleeveless top called a tank top is designed to fit the figure of women. It usually has thin straps that cross the shoulders and a round or V-neck. Women's vests are usually made of lightweight, breathable materials such as OC, Linen, or a blend of the two.
Women Tank tops are popular in hot and humid weather because they allow more airflow than a simple t-shirt or shirt.

Add some tank  from Blily to your wardrobe for an effortless look. For a cool weekend street shopping look, pair the Pitapat tank with matching slim-fit leggings or trousers for a casual look. Complete the look with a dangling sling bag, a pair of suede ballerinas. Browse through our selection of men's tank to find the right look for you. Wear black trousers with light cargo pants for a casual look with the kids.
Pair the solid tank with a cool Capri shirt and an oversized coat for a cool college look. Take your look to the next level with a pair of printed espadrilles. Show off your style in this Cinnamon Brandy colored tank top with printed sleeves and a standout collar shirt. To keep the look, grab a textured bag and put your hair in a half ponytail.
Browse Blily's options and shop undershirts and tops for comfort, style and fitness.
100 % organic cotton Tank tops wholesale
we are Custom Supplier and Manufacturer of 100% Organic Cotton Tank tops Wholesale